PRESTATION : IECEx international certification
IECEx 05 Certification of Personnel Competencies (CoPC)

The International Electrotechnical Commission, through IECEx, sets up a new certification scheme of Personnel Competencies for those who are involved in explosive atmospheres.
This certification enhances the experience and the qualification of anyone who can have an effect on conformity of a first installation, of the maintenance and verification of this installation, the repair of equipment and the zone classification.
The IECEx 05 scheme, in the development of which Ineris took part, covers an important field and has the advantage of being recognized across borders.
The different units of competences are listed below: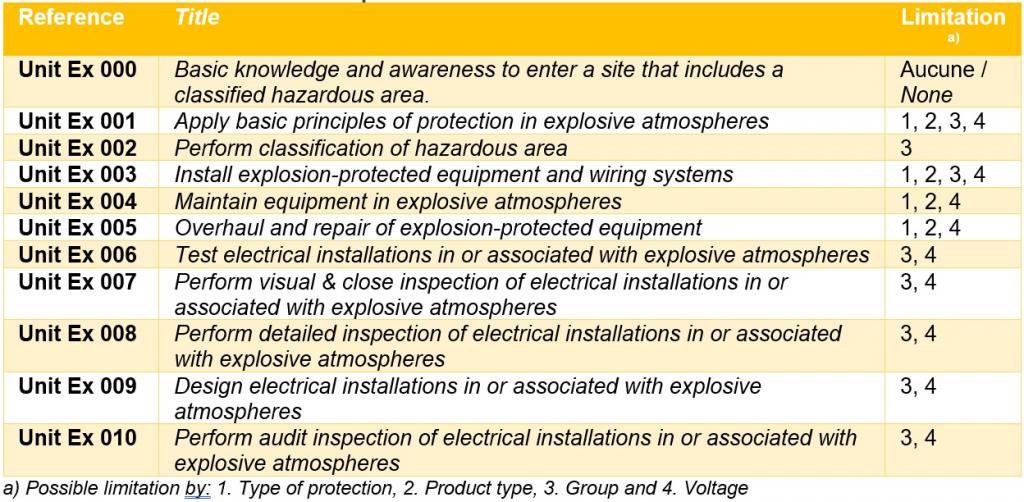 This certification provides companies with independent proof that a person holding an IECEx certificate of personnel competencies (CoPC) has the qualification and experience necessary to implement the International and European standards of zone classification, installation, verification or repair. This is important especially for contracting staff.
This certification relies to International and European standards which define the level and the type of the necessary training and competence to the workers having to operate or being in relation to explosive atmospheres.
IEC/EN 60079-14 - Selection and Installation,
IEC/EN 60079-17 - Inspection and Maintenance,
IEC/EN 60079-19 - Repair and Overhaul.
and to those who perform zone classification based on IEC/EN 60079-10 standard.
To obtain an IECEx certificate of personnel competencies (CoPC), the applicant fills the form that you can find below:
Application form for IECEx Certification of Personnel Competencies (IM1571)
and send your application to  IECExCoPC@ineris.fr.
If the request is valid, you will be invited to undergo theoretical and practical knowledge tests; if all is satisfactory, the candidate will receive the IECEx certificate as well as an ID card summarizing the certification scope.
A regular re-assessment ensures that the certified person maintains its competencies.
The certificates of IECEx personnel competencies (CoPC) are published on IECEx website.