PRESTATION :
ATEX - European certification according to Directive 2014/34/EU

As a notified body, Ineris carries out assessments and certifications of your electrical and non-electrical appliances according to ATEX 2014/34/EU
Ineris is accredited and notified for all conformity assessment procedures that are assessed by a third party body. Ineris has extensive testing facilities.
Application of the ATEX Directive 2014/34/EU
ATEX Directive 2014/34/EU applies to equipment and protective system intended for use in potentially explosive atmosphere. e.g. an atmosphere which could become explosive due to local and operational conditions. This atmosphere is a mixture with air, under atmospheric condition of flammable substance in the form of gases, vapors, mists or dusts.
All electrical equipment and non-electrical equipment (mechanics, pneumatic, hydraulics…) are concerned by this directive as far as they have got their own source of ignition.
This ATEX Directive 2014/34/EU is transposed in the French law by Decree 2015-799 of the 1st July 2015 (French).
From 20 April 2016, ATEX Directive 2014/34/EU has replaced ATEX Directive 94/9/EC ATEX Directive 94/9/EC is now withdrawn
It is important to note that this Directive does not introduce any change of the Essential Health and Safety Requirements as defined in Annex II and any change of the different procedures of evaluation. Consequently the manufacturer will be able to use the official documents already issued in accordance with the Directive 94/9/EC.
In order to help manufacturer and those who act as a manufacturer by assembling equipment coming from different sources, the European Commission has written ATEX guidelines.
Directive 2014/34/EU defines for Industries of Group II, 3 categories according to the level of protection :
| | | |
| --- | --- | --- |
| Level of protection | Category | Zones |
| Very High | 1 | 0, 1, 2 |
| High | 2 | 1, 2 |
| Normal | 3 | 2 |
And for each categories, one of these Conformity Assessment Procedures defined by the ATEX Directive needs to be applied.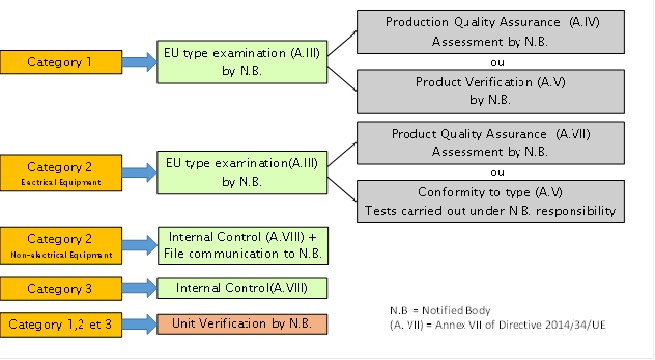 For Category 1 equipment and Category 2 electrical equipment,
The directive forces that a type of the product and manufacturing capability of the manufacturer were assessed by a Notified Body. Ineris is one of the ATEX Notified Bodies notified by the French Authorities.
The first step consists of a type examination, the Notified Body examines (in accordance with Annex III of the directive) equipment and carries out tests in accordance with European harmonised standards. The result of this assessment is the delivery of an EU-Type Examination Certificate which attests respect of the essential health and safety requirements of the directive.
For the second step, either the manufacturer has a quality assurance system and in this case manufacturing control  consists of an audit of the production sites (Annex IV or Annex VII); or it does not have one and in this case each equipment manufactured will have to be checked individually by the Notified Body (Annex V or Annex VI).

For non-electric equipment of Category 2
ATEX 94/9/EC Directive forces the manufacturers to carry out an internal control of manufacturing (Annex VIII) and deposit the technical documentation with a Notified Body..

For Category 3 equipment
The ATEX 94/9/EC Directive forces the manufacturers to carry out an internal control of manufacturing (Annex VIII) and does not force to pass by a Notified Body.
However, Ineris can carry out for you the examination of conformity to annex VIII and deliver you a type examination certificate.
For Category 1, 2 and 3 equipment
At the end of these steps, the manufacturer must write an EU Declaration of Conformity and affix the CE mark on equipment and put them on the market (Example of EU Declaration of Conformity).